Adult Dodgeball Pick Up Games
Description
We are taking a break from our dodgeball league to play some school yard pick up dodgeball! Have you wanted to join our league, but could not find a team? Now is your chance to try out Adult Dodgeball and find a team to join.
(415) 345-9675
Sign Up Online
Cost
$80 for all 8 sessions
$20 for a drop-in session
Schedule
ANNOUNCEMENT COMING SOON!
Tuesday Nights: 7:00pm - 9:00pm
What?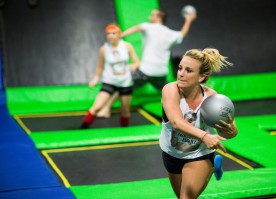 Gear
Be sure to wear athletic clothing - you will get hot and sweaty!
Team uniforms and costumes are welcomed and encouraged!
After School Dodgeball Club
Description
Every Tuesday from 4-6pm. During the 4-5pm hour, participants will have access to not only the colosseum to practice their dodgeball skills, as well as the matrix for open jump. After some warming up and fun, participants will have exclusive access to the colosseum from 5-6pm. During that time, participants will practice dodgeball drills, as well as play games with other clinic participants. House of Air staff will lead the drills and games.You must sign up for all 8 weeksClub members will receive one pair of awesome flight socks!
Details
Flyers ages 10-14
New League will start in 2019
8 week session
Details subject to change
Price
Call us to join the club!
(415) 345-9675
Game
Each match is 8 minutes long, teams play as many games as possible.
A team wins a game when they get all the opposing players out.
Each team starts with 3 balls.
Each team starts with 8 players on each team; minimum of 3 female players on per team.
The team who won the most games at the end of 8 minutes won the match.
If the case of a tie, a tie breaker game is held.
You are out if
You are hit with a ball ANYWHERE ON YOUR BODY.
You throw a ball and someone catches it.
You cross the green boundary, including reaching over for a ball.
You argue with the referee.
You attempt to block a ball with another ball and drop the ball being used for blocking.
When you are out
Walk across the center green pads with your hands wrapped around your head.
Other rules
Only 1 person is out per throw.
A ball is defined as dead once it touches ANYTHING: person, trampoline, mat, etc!
Only the player who the ball is being thrown at may catch it to get the thrower out.
You may catch a ball with any part of your body.
Referees have the final say.